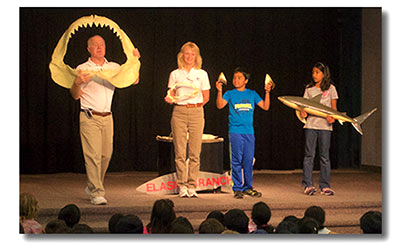 Ocean explorers, Wayne and Karen Brown, bring their world-wide ocean explorations to life with their high-energy, fast-paced, multimedia presentations that combine actual specimens, biological models, life-sized (or larger-than-life) inflatable animals, unique props, costumes, creative dramatics, storytelling techniques, high-tech SCUBA diving equipment, audience participation, and breathtaking underwater photography.

School Assemblies:


Get your students excited about science! Our nationally-acclaimed school assembly programs are designed to complement school curricula. Each themed program teaches science concepts established by State and National Science Content Standards. Included teacher's curriculum guide and student workbook provides hands-on, cross-curricular classroom activities. (Great for Ocean Weeks, Red Ribbon Week, Award Assemblies, Science Nights, Career Days, and Family Fun Nights!)

Family Fun Nights:


Because adults LOVE our presenatations as much as children we are a popular Family Fun Night event at many schools! Our Family Fun Night includes one of our shows AND extra displays and show-and-tell items. Plus we are always happy to stay after our show to talk to students and their moms and dads, answer questions, and allow time for photos with our life-sized, inflatable animals. Some schools use their Family Fun Night as a fundraiser by selling tickets or having food sales.

Children's Library Programs: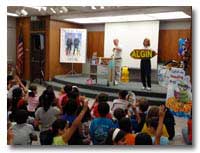 Bring us to your library and watch your marine life books fly off your shelves! Our nationally-acclaimed children's library programs are fun and fascinating for your patrons. We motivate your young patrons to learn about the oceans by reading about them from the books in your library! Included librarian's guide and kids' fun book provide program information, vocabulary, a book list, and hand-outs that include a story to read, puzzles and a picture to color.

Adult Programs: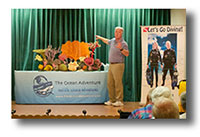 In addition to our Ocean Adventure underwater "expedition" programs, we offer presentations from our collection of programs that we present as onboard expedition cruise ship naturalists and historians. Our repertoire of presentations includes marine science, history and travelogues.



Virtual Programs: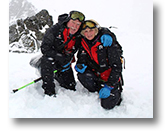 Can't have The Ocean Adventure come to your venue? No problem!
Now all of our school assemblies, library programs, and adult programs are available virtually! You can choose from a pre-recorded presentation or a LIVE presentation!
Contact us and find out how we can help you bring The Ocean Adventure to your venue virtually!



Fairs & Festivals: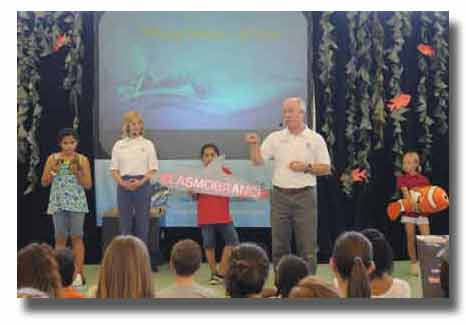 Add educational value to your guests' fair experience with our live, participatory multi-media stage shows, interactive displays/exhibits, biological specimens, unique props, and life-size inflatable animals. Our shows are family-friendly and have mesmerized fair audiences from pre-school through teen through adult. (Featured at the 2019 Big Fresno Fair and 2009 Los Angeles County Fair.)


Wayne and Karen Brown...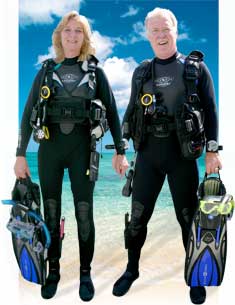 have been bringing the excitement, beauty and wonder of nature under the sea to audiences for over 20 years. They are experts on the ocean environment with over 30 years of experience exploring the oceans of the world. Wayne and Karen bring their expertise as marine researchers, educators, and award-winning photographers to The Ocean Adventure presentations.

Wayne and Karen are experienced and sought-after school assembly performers, speaking to about 150,000 students and teachers each year in preK-8 grade schools across the U.S. In addition to school assemblies, the Browns are also popular presenters for school Family Fun Nights, Science Nights, Ocean Weeks, PTA meetings, Award Assemblies, Career Days, Red Ribbon Week, and for childrens' libraries, fairs, festivals, museums, aquariums, nature centers, summer camps, retirement villages, church groups and any group that wants entertaining and educational programs that are appropriate for children and adults. Over two million children and adults have been fascinated and inspired by the Brown's entertaining and educational presentations.