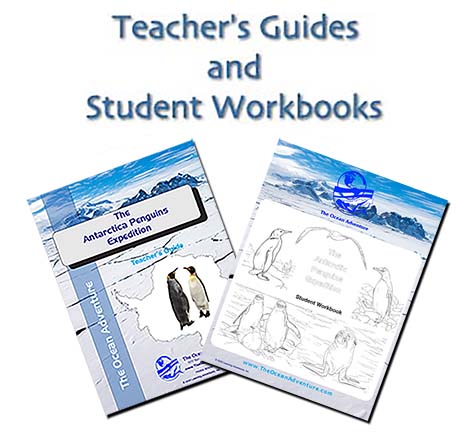 Thematic, multi-disciplinary curriculum guides and student workbooks, included free with each school assembly program, enhance each presentation with lots of hands-on classroom activities designed to meet State and National Curriculum Standards.
Teacher's Guides:
Each Teacher's Guide is specially designed to supplement each underwater adventure in The Ocean Adventure program series. Each presentation is highlighted in Program Description and Program Instructional Objectives sections. The cross-curricular material in each guide is designed to give you, the teacher, all the information needed for complete classroom sessions, both before and after the presentation. To assist your students in getting the most benefit from The Ocean Adventure program there are suggestions for both pre-program and post-program activities. These comprehensive materials contain activities in geography, math, science, social studies, language arts, literature, fine arts, and Internet projects. Activities are included which cater to the various learning styles found within the classroom: visual, auditory, and kinesthetic.
Student Workbooks:
The Student Workbooks supplement each Teacher's Guide and include a story, questions to assist in reading comprehension, puzzles that relate to The Ocean Adventure presentation and a picture to color for the younger students.